Office Leasing
If you are looking for an office space, your needs would be fulfilled at Dragon Fly since we offer you different areas of space from 30sqm to more than 200sqm. Our buildings are all located in District 1 – center of the city where have good conditions for any enterprises to develop. Further more, with effective and professional management, we'd love to contribute to the guarantee for your success.
FEATURED PROJECTS
Empire Tower - the 12 - floor building lo..
Detail
Capital Place - an 11 storey office building lo..
Detail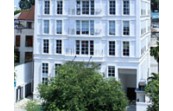 Lafayette is an Office and Residential Building..

Detail

Showing 1 to 3 of 3 (1 Pages)